Welcome
Please select a category from above to begin browsing our packages for sale.
Usernames are Case-Sensitive (this means uppercase/lowercase matters)!
How can I pay?
All of PvPHeroes's payments are handled through our payment processing partner Xsolla. Xsolla is a trusted payment processing organization used by organizations such as Steam, Twitch, Ubisoft, and more.
Xsolla allows you to pay with a variety of payment methods. These include but are not limited to Debit/Credit card, PayPal, PaySafeCard, and many others (over 700 payment methods). The process for payment is no different than before, so paying with PayPal or debit card is as easy as clicking "Purchase »", clicking on your desired payment method, and continuing through Xsolla.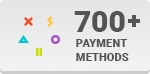 What do I do if I don't receive my purchase?
A purchase can take up to 10 minutes to process, and for you to receive. You must be online the server as well. If you don't receive your purchase within 24 hours, submit a support ticket on the website to discuss your issues. Remember, if you have paid with an E-Check, it will take 7 - 14 days to clear.
Disclaimer
Please note that all purchases are final and once you purchase your package you cannot be refunded. In the time of a chargeback, you will be automatically blacklisted on our server by buycraft. This action is irreversible and will not be lifted under any circumstances. Please make sure you are above the age of 18, or ask a parent before purchasing a rank or package.
PvPHeroes is NOT AFFILIATED with Minecraft, Mojang AB, Notch Development AB, and/or Microsoft.
Minecraft is © Mojang AB 2009-2018.